PEDALING 4 PARKINSON'S 2017 RIDES
We're pleased to offer three routes this year, to give everyone a chance to Join The Fight!  Choose your challenge, and get ready for June 24, 2017!  Register early, as prices will go up as we get close to Ride Day.
All routes start and end at Sweetwater Park in Lone Tree, and will go on, rain or shine.  Register by June 15th to receive a FREE P4P t-shirt and other goodies.  Each rider pledges to raise a minimum donation of $150 (in addition to the registration fee), all of which will go to The Michael J. Fox Foundation for Parkinson's Research.  Please note that the routes shown below are subject to minor changes.
60-Mile Ride
(60.27 miles)
Ride south from Lone Tree, past Surrey Ridge, then East towards South Parker. Loop around South Parker and return past Hess Reservoir, then continuing up into Daniels Park through West Highlands Ranch and back up to Lone Tree.
View Course
40-Mile Ride
(41.69 miles)
Ride south from Lone Tree towards Castle Pines, then East towards South Parker past Hess Reservoir, completing a loop in South Parker and returning past Hess Reservoir then back North to Lone Tree.
View Course
Ten Mile Ride
(10.81 miles)
Leave Lone Tree Heading North towards Centennial, looping around Willow Springs Open Space, and returning on same route to Lone Tree.

 Family of 4 Special $100
View Course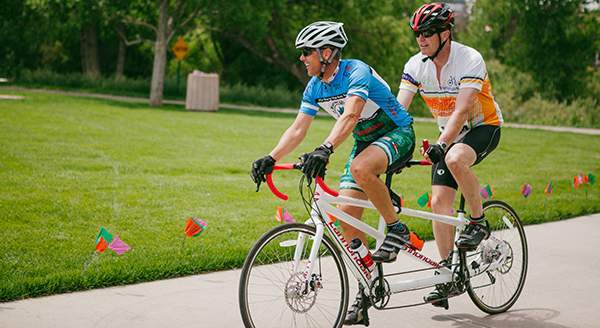 TANDEM BIKE PROJECT
The Tandem Bike Project is an opportunity for people with Parkinson's to ride Pedaling 4 Parkinson's as "stokers" on the back of a tandem bike.  We'll provide the bikes and the "captains" to make it easy for everyone to Join The Fight!  Our captains will be strong riders, capable of providing as much effort as needed to complete the ride.  We'll have numerous rest stations along the route, with snacks and beverages to keep you going.
Learn More
THE EXPO
We have gathered some of the best vendors from around Denver to bring you a wonderful expo to relax and recover after the ride.  Enjoy a delicious lunch, hang out in the Biergarten, or get your bike tuned up. You can also learn about Parkinson's Disease from Team Fox. We will also have live music for you to enjoy.
CHEERLEADERS WELCOME.
Your personal support team is welcome at all locations along the Ride route, particularly at the Start, Finish, and Rest Stops.  Direct them to the route information so they can encourage you and everyone else who is Pedaling 4 Parkinson's!