THANKS TO OUR 2019 SPONSORS!
"An Exemplary Event"
– The Michael J. Fox Foundation
P4P's $90,000 donation to The Michael J. Fox Foundation was, by far, the largest "Team Fox" donation from Colorado in 2018.
PEDALING 4 PARKINSON'S is a charity bicycle ride and EXPO in the Denver area that benefits people living with Parkinson's disease and those searching for a cure. The 2019 event is expected to draw more than 500 people, including 300 riders. Located in Lone Tree's Sweetwater Park, the EXPO will include sponsors' exhibits, food, live music, and other activities for all ages. "P4P" is quickly becoming one of Colorado's favorite rides, thanks to previous support from Anadarko Petroleum Corp., CenturyLink, Noble Energy, Porter Adventist Hospital, Littleton Adventist Hospital, FirstBank, Lone Tree Brewing Co., and others.
THE CAUSE: Parkinson's disease affects millions of people worldwide, and nearly 17,000 people here in the Rocky Mountain region. If you don't know someone with Parkinson's, someday you likely will. Dramatic progress is being made by researchers looking for a cure and those working to mitigate the disease's devastating symptoms. This progress depends on your support. Sponsorship of events like P4P has an amazing multiplier effect: In our ride's history, total sponsorship funding has generated over five times that amount in donations.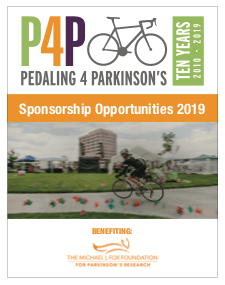 Pedaling 4 Parkinson's strongly believes in publicly thanking those who make this event possible, and we welcome your presence at the EXPO. Depending on level of support, your name will appear on signage, t-shirts, social media, websites, and other collateral. Your employees are encouraged to participate, as riders or as volunteers. With the tandem-bike component to The Ride this year, we're expecting significant media coverage as well.
Please download our 2019 Sponsorship Packet for more information!
Please consider Joining the Fight and contributing to this unique event bringing together all who are affected by Parkinson's Disease.