Bicycling Safety Considerations with COVID-19
By now we all know the risks, transmission pathways and best practices for avoiding the Corona virus. The health and safety of all Pedaling4Parkinsons participants is the single most important issue for our 2020 event.
Individuals most concerned about the virus may choose to ride indoors, which is an option for the June mileage goal. However, since the stay at home orders were put into effect in March, a very large percentage of the population has continued to safely exercise outdoors.
Since we still don't have adequate COVID-19 testing and symptoms are not always present, we don't know if we're infected. That is why health authorities around the country have urged us to engage in social distancing by staying at least 6-feet away from another person, especially one of unknown health status. It is essential that we not only lookout for ourselves, but also protect others from real and perceived potential for infection.
David Nieman, who studies exercise immunology at the Appalachian State University Human Performance Lab, sees a "risk-benefit continuum" that can inform choices about which sports we play. In this continuum, Nieman weighs the advantages of outdoor exercise against the risk of exposure to the virus during workouts. Thirty to 60 minutes of physical activity, most days of the week, will result in a stronger immune system, he said. "We've done large studies that consistently show people get sick less often if active."
Respiratory Signature
Dr. Anne Hyman, President of Potomac Pedalers Touring Club has a PhD in Biomedical Sciences and Pathology and is an expert in airborne pathogens. She emphasizes that cyclists must consider the "respiratory signature" you or a rider in front of you may have. That is the footprint we leave in the air every time we expel air from our lungs through our nose and mouth. And with that exhalant comes anything that may also be hanging out in our nose, tonsil area, and upper respiratory tract. Those particles, being as light as they are, will stay afloat in the air for a decent amount of time, creating this sphere of breath from the person who coughed, snot rocketed, or even just talked for a while.

If you're zipping along on your bike, your lungs are working hard, you're exhaling hard through your mouth. But the entire time, your respiratory signature is not just a stationary, six-foot sphere around you, but it turns into a comet-shaped trail while you're at speed. The majority of your signature is still around you in your sphere, but you're moving fast enough that your sphere starts trailing behind you, where you used to be.
As shown in the photo above, the air/particles you exhale may impact a rider well beyond 6 feet behind you because they are essentially riding into your cloud! At least six bike lengths would be a better following distance. In March 2020, Dr. Hyman decided to cancel group rides in her touring club because of these concerns. Masks provide an extra layer of protection, but if you aren't wearing a mask, keep your distance from other cyclists and pedestrians.
To Mask or Not to Mask
Most cyclists in Colorado have not been wearing masks while riding. This often creates angst among other users of the road who believe they may be infected by a passing cyclist. The following discussion was extracted from VeloNews Magazine, April 6, 2020.
Explainer: Should I wear a mask while riding?
It's a good idea to keep a mask or neck gaiter on hand when heading out for a ride, but the situation determines the importance of when to wear it.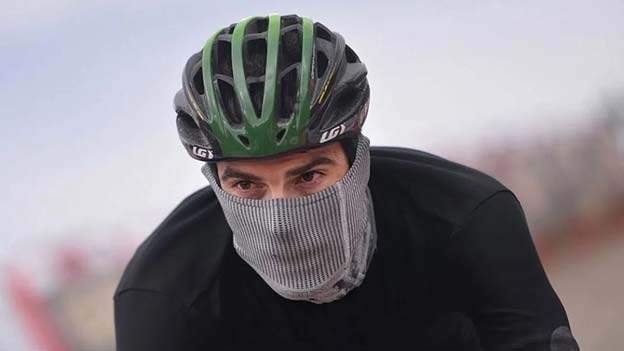 Social distancing reigns supreme when it comes to preventing the spread of the novel coronavirus. Nevertheless, now an additional layer of precaution has been recommended by many governing bodies: wearing a non-medical mask at all times when going about essential activities outside the home.
We spoke with pulmonologist and critical care physician Dr. Hunter Smith, in Boulder, Colorado to find out what that means for cyclists. For the purpose of the interview, we used a neck gaiter, often referred to by the brand name Buff, as an example of an option for a non-medical mask.
Why masks and why now?
The new recommendation for masks when social distancing is difficult (ie. going into a store) stems from increasing evidence that the novel coronavirus can be spread by presymptomatic and asymptomatic carriers. Therefore, the primary benefit of wearing a mask is that you will protect others if you are infected.
"It's important for people to realize that they may be asymptomatic carriers," Smith says. "What if they have seasonal allergies and are occasionally sneezing? They're broadcasting droplets."
Wearing a mask can prevent those droplets from moving both ways — going out and coming in
— which is why it can also be beneficial for all people to wear them. Essentially, the mask acts as a barrier in two ways: for those that are infected, it can prevent disease transmission; for those that aren't, it can protect them from the risk.
Nevertheless, not all masks are created equal. We know to leave N95 and other medical-grade masks to the medical professionals, but there are certain DIY solutions that are more effective than others.
"The 'buff' is great because it covers both the nose and mouth securely," Smith says. "All air that's coming in and out is fairly filtered. It's a good solution for a cyclist and runner."
Bandanas, worn bank-robber style over the nose, are not. If the mask doesn't fit tightly over nose and jaw and filter air coming into mouth, it doesn't do any good at all, he says.
Not all rides are created equal
Whether or not cyclists should wear a mask depends largely on where they are riding and how many other people are around. Many trail systems and parks have seen a huge increase in traffic in recent weeks, and these are the places that cyclists might want to take more precautions than if they are riding open roads.
"Unless the trail is packed with people who cannot maintain any distance," Smith says, "the chance of getting a lot of viral particles on an open trail with breeze blowing is slim to none." Nevertheless, since many areas have seen a large uptick in visitors, it's smart to wear or carry a buff so that if your trail is crowded, you have the option of covering up. Even if you haven't come close to people on a trail, he says, you could wear your mask at the trailhead parking lot.
For cyclists that may be opening and closing gates to access trails or roads, there are additional considerations. "There, you're touching something that other people have touched as well," Smith says. "After you do that, you probably don't want to touch your face until you hand sanitize."
Even with gloves on, cyclists should avoid touching their faces after they've touched a gate, or another object that others have put their hands, on as well. 'In that situation, if you have to wipe your nose," Smith says, "use the back of your glove only."
For cyclists heading out on the road, the likelihood of being in close enough proximity to someone to spread disease is low. Consequently, there is no need to wear a mask on the road, or in wide-open areas, Smith says, "but if a cyclist plans to stop at a store or to interact with someone during the ride, it's wise to carry a buff or mask for that reason." One thing he wants to reiterate: group rides should not be happening.
Takeaways
First, on the bike as in life: if you're not feeling well, stay home.
"You don't go out, you don't exercise," Smith says. "Or, if you're not sure, you wear a mask and you stay far away from people."
Second, social distancing rules apply on the bike as they do elsewhere. No group rides, no congregating at trailheads or parks, and give people space on the trail.
Third, when it comes to masks, keep one handy, and wear it when you're in close proximity to others.
Cyclists who aren't wearing masks do not pose an inherent threat or put themselves in danger if they're heeding social distancing recommendations and continuing to practice meticulous hand hygiene. If cyclists need to pass or wait on another rider to do so, Smith reminds them to do so safely.
"Just ride on and give a thumbs up," Smith says.